"Specialists in parts for Triumph, Rover, MG and many, many more."
GOLD SPORTS IGNITION COIL (12v) ; E-TYPE SERIES I & II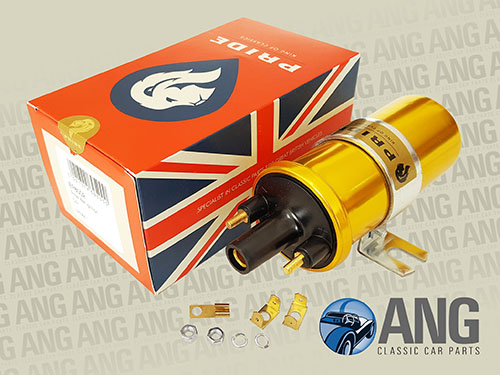 GOLD SPORTS IGNITION COIL (12v) ; E-TYPE SERIES I & II
Product Description
12v GOLD SPORTS IGNITION COIL that would be suitable for the following vehicles ;
JAGUAR E-TYPE 3.8, 4.2 SERIES I & II ; YEARS 1964-1971.
For reference, it has the Part No. DLB105 or EP8002.
This coil has standard push on type HT ignition lead connections and is designed to fit all vehicles fitted with 12v electrical systems (without ballast resistor fitted)
This coil delivers a high performance spark to the plugs throughout the rev range and if required, the spark plug gaps can be increased for better combustion. There is also the benefit of better performance and economy. If your Jaguar is difficult to start then this coil might well be the answer and can be fitted by the owner enthusiast themselves with basic workshop or garage tools. Indeed, if you are unsure of your mechanical skills, your Jaguar Owners Workshop Manual will guide you through the very easy fitment of this part.
Reviews
There are currently no reviews of this product, why not be the first to write one?
Please note that all reviews are moderated before publishing.